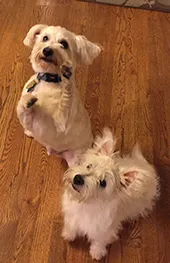 Woodward Veterinary Home Care PC is proud to serve the communities surrounding the western Woodward Ave corridor. We provide care as far away as Warren, Sterling Hts, Farmington Hills and Troy. Our mobile Veterinary service is run by Dr. Andrea Smirnes, who is a licensed, experienced Royal Oak veterinarian.
Our goal is to deliver veterinary care while minimizing fear and discomfort that are usually associated with trips to a veterinary office. We provide well care such as annual exams, vaccines, heartworm and other blood testing, as well as helping to manage chronic conditions. We also provide end-of-life services. We maintain a relationship with a local veterinary hospital so additional services such as hospitalization, surgery, and other diagnostic testing can be provided
Our team is committed to educating our clients in how to keep your pets healthy year round, with good nutrition and exercise. Woodward Veterinary Home Care PC stays on top of the latest advances in veterinarian technology and above all, remembers that all animals and pets need to be treated with loving care in every check-up, procedure, or surgery.