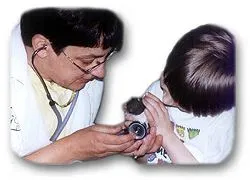 Dr. Andrea Smirnes, owner of Woodward Veterinary Home Care, graduated with honors from Michigan State University's College of Veterinary Medicine in 1989. She has been providing veterinary care in the metro Detroit area since that time.
Dr. Smirnes has a wide range of experience in the veterinary field. She practiced 3 years as an Emergency and Critical care veterinarian and has 20 years of General Practice experience. In 1999 she established Woodward Veterinary Home Care, PC to provide gentler veterinary care, and to allow more time for her then young family.
Dr. Smirnes is fully licensed by the State of Michigan and insured by the American Veterinary Medical Association.